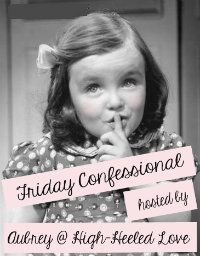 I Confess:
I've had an emotional week.
I Confess:
It started with a monsterous snowstorm where I slipped in my driveway and fell on my arm. Yup, my shoulder is slightly dislocated and my elbow has a bleed. Praying it didnt do any damage to my fused neck.
I Confess:
I found out that a soccer mom I am friend with is losing her battle to cancer. 4 years ago she was diagnosed with Breast Cancer. It came back over a year ago in other organs. She told us this week that her body isnt responding to treatments and she is going to spend the rest of her time and energy just being with her family. Broke my heart. She has young kids. She is an amazing person.
I Confess:
Hearing about my friends prognosis sent me into hysterics. That could have been my mom. Thank God for healing her.
I Confess:
I have a presentation to give next week that I am a little freaked out about. Hundreds of people. On a topic that is a change in our process that people arent totally thrilled about.
I Confess:
My hubby is going out of the country again next week. I hate when he is gone.
I Confess:
My daughter has been going to basketball camp all week and tryouts for the Jr High team are Mon/Tues. Good luck sis!!
I Confess:
PTC didnt go so well for Drew yesterday. They said he's been having some behavior issues. He says he feels left out.... left out at home b/c his sister is getting too big and with her friends a lot now. Left out at school b/c he goes for resource reading help and misses things in his class.... but more importantly left out by his dad b/c he only takes him 4x a month now instead of what he had. Unfortunatly there is nothing I can do to help wiht that b/c his dad told me last night he is too busy. Breaks my heart for my little boy. He's my tenderheart.