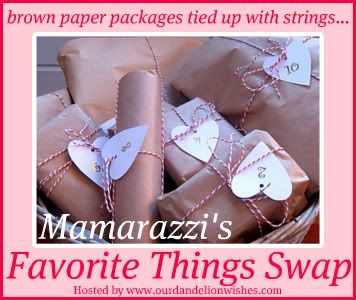 I participated in Mamarazzi's Favorite Things Swap again this year and was paired up with Sarita from http://lonetater.blogspot.com/. She is a doll! I was so excited when I found out we are Swap partners b/c I've been following her blog for a while and we have a lot in comman. Good choosing, Mamarazzi!
I was kind of bummed out on Monday when I got the notification that my package was delievered, only to find out it wasnt there and there was no note saying which post office I could get it from. I left a note on my door and in my mailbox saying "PLEASE leave it!!" and ended up finding it yesterday in the mailbox. Yay!!
I was pretty dang excited when I saw what I got... the "Thirty-One" lady was at my church a little bit back and I wanted to get a new bag from her to use as a church bag... bible, notebook, pens, etc. and I never had a chance while she was there. I got the catalog and lost it (I think hubby threw it away, to be honest) so I never had a chance to order my bag. As you can see, I got one! It's a cute brown and white polka dot which is what I would have chosen for myself.
I got some hand cream to try out... which makes me wonder if I complained on my blog about how dry my hands have been since going to the gym.
I got some new nail polish, which is good b/c I am getting a pedicure on Saturday :)
I got the Blindside movie... great!
I got some very nice silver hoop earrings to go with the ring Mr. Husband got me for Valentine's Day.
I got a very cool 10oz Tervis Tumbler that has a biker-ish feel to it with the heart with wings. That worked out perfect b/c my large setting on my Kuerig is 10 oz.
Thank you so much for everything Sarita. It was fun!